It's something that everyone goes through: acne. No one likes it, and no one wants it to linger. Unfortunately for many people, scars from acne do last, and it can be a blow to their self-confidence. That is why they seek out laser acne treatment to remove the scars. But is it an effective method?
How Does Laser Acne Treatment Work?
The process involves the use of light therapy to remove the outer layer of the skin's surface and stimulate new skin cells to cover over the scars. In scientific terms, it activates the hemoglobin in the blood beneath your skin, depriving the skin of oxygen so that your skin can rebuild a new layer – giving you new skin to cover your acne. Laser acne treatment is one of the most common and safest options when it comes to dealing with acne scarring.
Is Laser Acne Treatment Effective?
Results from laser acne treatment will vary from person to person, but in most cases, the process never gets rid of 100% of acne scars.
In some cases, patients will need multiple sessions to get the best results. It will vary depending on your condition. The expert at your medi spa in Olds can help explain how many sessions you will need.
The process can reduce the number of acne scars, but the results will not be immediate. It takes time for it to be evident.
The darker or more sensitive your skin, the less likely the treatment will be successful.
For long-lasting results, patients often need follow-up treatments once or twice a year.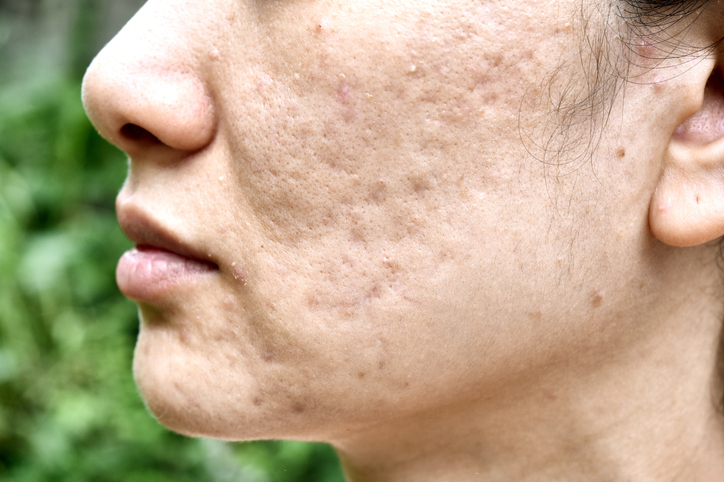 Are There Side Effects To Laser Acne Treatment?
As with all laser treatment, there are some side effects, but not necessarily long-term or damaging. In most cases, laser acne treatment will see patients experience some redness, a burning feeling or swelling in the areas they had the procedure. These usually last a few hours or a day or so.
However, if you notice that the pain is severe, or gets worse, immediately go back to your Olds medi spa for advice. It is essential that you follow your medi spa expert's instructions carefully to ensure that you get the best outcome possible.
While laser acne treatment will not altogether remove your scars, it is the first step to getting the process started. Be careful of what you eat, list what triggers your acne, don't pick at your pimples and begin taking care of your skin. Over time, you will notice that your acne scars will disappear.
Come to The Oasis Medi Spa in Olds for the ultimate oasis experience. Our medical spa in Olds has everything you need. Whether you need acne treatment, laser therapy, wrinkle treatment, body wraps, skin tightening or laser hair removal in Olds and around, The Oasis Medi Spa is the place for you. Call us to book an appointment at 403-556-3025 or send an email to [email protected].